I'll be heading back to Adelaide at the end of the week to launch Twenty-One Nights in July at Format's 2014 zine fair. This is fitting, given the original version was launched at the 2009 zine fair. All the event details are here.
This has set me wandering down memory lane, remembering the early days of Format. I always think of the 2009 festival fondly. I'd decided to 'direct' it after virtually everyone I knew left South Australia, including Format's co-founder Joel Catchlove.
Notably, the zine fair actually pre-dates Format itself. Joel and I had started running it in 2006, with the first one on the roof of the former Madlove Bar, later Tuxedo Cat, and now student apartments. This was so successful a local experimental poet dubbed us a 'disgrace to the underground'. When we ran the second one (in the laneway behind the Exeter) in 2007 he turned up and began playing bongos until local traders told him to leave. Here's Joel's flyer for the 2007 fair: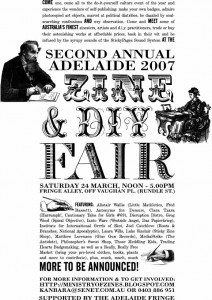 We'd operated under the title 'Ministry of Zines', and our old 'blogspot' is still online.
The 2007 fair was also the start of support from the Adelaide Fringe, who arranged for a large supply of trestle tables and allowed us to exploit their staff, beginning with Steve Mayhew and Jane Fuller. Later, the task was assigned to Rino del Zoppo, whose name alone was enough to recommend him.
Joel and I had also run an event called the Academy of DIY. In 2008 Rino asked Joel and I to include both the zine fair and the Academy within a proto-literary festival he was trying to start, under the working title of Format. At some point we simply highjacked it.
I remember Rino falling asleep in some bean bags at one point.
That year, we were in the old Balfour's factory site. It looked like this: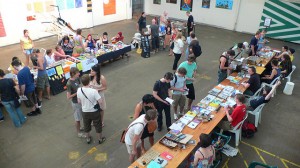 Immediately afterwards, Joel fled to South America and this place was turned into apartments.
Around the same time, my then girlfriend (referred to as the Furniture Removalist in Twenty-One Nights) had moved to Berlin. This began my descent into both attempting to run a festival and trying to write a book about the Tour de France. Both would find form in March 2009, which I'll document in the next post.