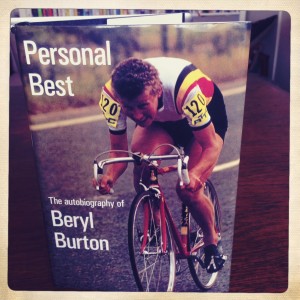 When I was in London I picked up a copy of The Independent with this article on the 'unknown' cycling legend Beryl Burton.
Unknown is probably the wrong word. Within a particular subculture of British club cycling, Burton's legend is on par with Eddy Merckx. The two are certainly quite comparable in that both won nearly everything they raced. Personality-wise, both shared the same neurotic inability to comprehend losing, which combined with their natural athleticism to create a phenomenon. Burton's palamares includes two world champions, five world pursuit championships and a 20km time trial world record. She also broke the men's record for the twelve hour time trial. Probably the most telling statistic of her career is her place as the Best British All Rounder, a title she held for a colossal twenty-five years running.
Like Merckx, Burton eclipsed her competition entirely. Unlike Merckx, her career lasted thirty years, she rode without pay, received little or no public recognition outside of the British club scene, and had to endure the patronising tokenism so common to elite women's sport. Her autobiography, Personal Best, is out of print now, although you can still find copies floating around online.
Burton's literary talents didn't match her athletic prowess, but her unflinching personal analysis of her sporting life is superb. Like Merckx, her drive was vocational rather than merely competitive. Her book also covers a largely forgotten field of elite amateur competition; racing top tier Russian teams in Belgium, hammering through rainy weekend time trials, and mixing heavy training with long days working in market gardens.
Usually when you read a book on elite athletes there's an element of fame and glory that underpins their experience. Key in most sporting books is the validation of public recognition or the pressures of superstardom. In Burton's case, that's markedly absent. Despite being one of the greatest athletes to emerge from the UK, she was largely ignored. There are points at which she obviously found this frustrating. After returning from winning another Pursuit World Championship in front of screaming Belgian crowds, her local paper, The Yorkshire Post, "managed all of three inches while giving twice as much space in the next column to a local athletics meeting in a Leeds park."
With her phenomenal record, Burton did attract a certain degree of media, but it seemed intent on treating her as a novelty. Of the media coverage she had at the peak of her career, she recalled:
Many journalistic interviews I have given have highlighted the 'housewife' angle and, while I welcomed the publicity for my sport, it was difficult sometimes talking to people who had no concept of bike racing in the international sporting scene. […] I felt particularly annoyed when I could not recognise what I was supposed to have said when it appeared in print. It was almost as if they had interviewed somebody else.
With Pat McQuaid finally purged from the UCI, it's worth tracking down Burton's autobiography as part of the resurrection of elite women's cycling. It's also an antidote to the pessimism of the doping era. Burton is proof that people do engage in competition with a whole-hearted and life long passion even when the opportunities for reward or fame are virtually non-existent. She was utterly devoted to the bike, and drew something from it that transcends the usual glamour we associate with professional cycling.
Fittingly, Beryl Burton died on her bike, suffering a sudden and unexpected heart failure whilst out riding aged fifty-eight. Legend has it she was found on the side of the road, with her feet still in the straps. I'm not sure if that's true, but it seems apt that such a poetic legend should emerge around her death, given she received less than legendary accolades during her extraordinary career.