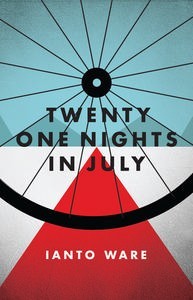 When chronic insomniac and reluctant office worker Ianto Ware went looking for answers to life's big questions, he found them in the world's largest bike race. Delving into the finest twenty-one stages of the Tour de France, Twenty-One Nights in July is a love letter to cycling; part history of the sport, and part philosophical treatise on the merits of the humble bicycle.
From Italian champion Gino Bartali, who took the Yellow Jersey to prevent a violent revolution, through to Tom Simpson's last request of 'put me back on my bike', and Lance Armstrong's proclamation of "I'm sorry you don't believe in miracles", Twenty-One Nights in July unravels La Grande Boucle's greatest stages, contests, personalities, scandals and controversies. Beyond a mere sport, this is a book on why cycling matters.
Twenty-Nights in July is available through Penguin or direct from Hunter Publishers. You should also be able to find it through independent bookstores and Dymocks.
About the Book
The first version of Twenty-One Nights in July was published as a fanzine in 2009. It was thirty-thousand words long and focused entirely on Carlos Sastre's 2008 Tour win. The very first edition was photocopied and sold for $5, almost half what it cost to copy at Officeworks. A second version was subsequently printed semi-properly in 2010 by Format Press, a project started by Ianto and his sometime associate Stan Mahoney. Stan also wrote most of the reviews, one of which you can still read here. Somehow the book became something of a minor cult classic, driven mostly through word of mouth and occasional reviews online. When it sold out, neither Stan nor Ianto could afford to re-print it.
Under duress from Melbourne Writers' Festival director Lisa Dempster, John Hunter of Hunter Publishers approached Ianto regarding re-publishing it. They both agreed it needed 'significant work'. John also suggested Ianto remove the 'sophomore humour.' Ianto re-wrote it almost entirely, most than doubling the word length, and replacing all humour with grim historical analysis.