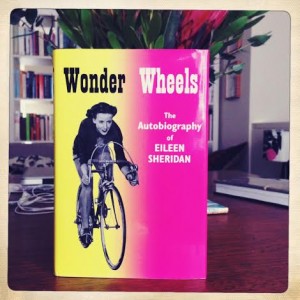 Eileen Sheridan's Wonder Wheels is one of my favourite books on cycling, originally published in 1956 when she was thirty-two. She'd turned professional a three years earlier with sponsorship from Hercules. In that time, she'd broken all of the twenty-one records kept by the Women's Road Records Association. She still holds five of them. Now in her Nineties, she's still the President of the Coventry Cycling Club. Sheridan seems like a bit of a feminist cycling icon awaiting rediscovery; she not only excelled in her sport and dealt with the usually bias, but came out of it happy.
She's best known for her record breaking Land's End to John o'Groates ride – 1407km covering the complete length of the British Isles. Cycling tours cite this as a nine or ten day ride. She did it in two days, eleven hours and seven minutes. She also set the record for the Thousand Miles, which wasn't bested until Lynne Taylor took it in 2002.
Sheridan's book was one of my first encounters with a particular sub-genre within cycling literature of personal, amateur autobiographies. It's a form I love, evident in Burton's Personal Best, as well as Vin Denson's The Full Cycle and Alan Peiper's A Peiper's Tale. Closer to home, and nigh on impossible to find, is Ernie Old's By Bread Alone, written when he was in his late seventies and still riding across the Nullarbor for fun.
None of them were professional writers. Their prose is technically imperfect, oscillating between technical discussion of cycling and obscure races, and reminisce and memory. The tone is inevitably personal and earnest. You can see it filtering through into more established writers like Tim Hilton and Paul Kimmage. Underneath it all is a common experience of cycling in countries where the sport was relegated to the level of a hobby, obscure and almost subcultural. You get the impression the books were written to document something otherwise likely to fade away.
Certainly Sheridan's accomplishments were at risk of being reduced to novelties. In his wonderful interview with her, written for Rouleur, Jack Thurston draws attention to this piece of film:
Like Burton, she was framed as a sort of comically athletic housewife. The commentator announces, "No wonder she wins races. She has to. To get back in time to catch up with the housework!" Her husband, Ken, was famously extremely supportive, as was her local club, yet their backing was far from universal. In her autobiography, she recalls being critiqued for neglecting her duties around the home. At a forum on sports in her native Coventry it was suggested to her that a women's place was at the kitchen sink, not on the bike. On this, Thurston writes:
These attitudes go a long way to explaining why women's cycling was so slow to develop on the world stage. The first UCI Women's Road Race World Championship wasn't held until 1958 and there was no women's time trial event until 1994. Women's cycling didn't become an Olympic sport until 1984 and it still rarely features on television, denying it crucial sponsorship money.
Clearly, there was a drain to committing oneself to a sport simultaneously marginalised within the wider culture and riddled with its own internal biases. You see some of this in the bitterness of Burton's biography. In her interview with Thurston, Sheridan cites the suicide of the war era champion Marguerite Wilson, reflecting:
A very powerful rider. I think if she'd have been riding when I was riding she'd have got everything. But she got depressed and then she suddenly committed suicide. A lovely, lovely girl. So very sad.
Information on Wilson is hard to find. There's an article here and a short newsreel describing her as a 'receptionist' up on the British Pathé website.
Sheridan seems to have taken the disapproval and tokenism in her stride. Her writing is almost constantly cheerful. You can imagine a film of her life would be part Breaking Away and part The Good Life. When Thurston interviewed her, she told him, "I've had so many things I can do, I've never had time to feel down." She'd taken to glass engraving, showing him a glass goblet she'd engraved with an image of Chris Boardman on his Lotus.
In both her book and the interviews I've read with her I get the sense of a wilful, stubborn goodwill. Where most cycling books will tend to dwell on the suffering, competition and the quest for overcoming, Sheridan writes of cycling:
No sport, no movement, no organisation of any kind can produce finer friends, or inspire greater understanding, loyalty, and unselfish enthusiasm than the great game of cycling.
Incidentally, there's some great articles on her here and here.
And here's the back cover image from her re-released autobiography, with her and Ken in their backyard in 2009: