People had been enthused about the 2008 Format Festival or, at least, I believed they were enthused. Either way, there was virtually nothing else of interest in my life other than the occasional No Through Road show. So, after Joel left the country, I decided not only to run Format again, but to expand it tenfold.
From this Quixotic moment, Format grew. It was fertilized by three other sources:
I'd managed to secure three small grants, totalling $14,000. I'd never seen that much money before in my life, and had a wildly optimistic notion of what it might achieve. The direct outcome of this was the decision to run the festival for two weeks straight which, in retrospect, was foolish
Fringe provided in-kind administrative and production support that year, provided by Zillah Morrow (who was sane and rational) and Jillian McKeague (who was not). Jillian secured us the dilapidated 145 Hindley Street site, which had been rejected by another theatre company. The place was utterly unfit for human use. It had no power, no water and a week before we opened the landlord walled up the toilets. Neither Jillian nor we saw this as a problem.
I'd begun running weekly 'programming' meetings at the Exeter. At one of these Paul Gallasch turned up. At a meeting with Fringe, they suggested we obtain a production manager. Neither of us knew what this was, but Paul decided that would be his job title. His first act on the job was to decide we should obtain a liquor license. He then secured the most immense amounts of free wine.
This was when we first met Jennifer Greer-Holmes, who would later end up as Format's Chair. She was working as the producer of a show entitled simply 'Cunts', featuring several hundred sculptures of vaginas made by a (male) farmer based on life models. This was slated to open in the former ice skating rink directly above us.
A week before Format opened we were told we couldn't sell alcohol after all because the owner had walled up the toilets. Jillian McKeague initially told us we should simply operate as a toilet-free speakeasy. We'd begun arranging for this. Then Jillian rang us up, begging us not to. Apparently it was highly illegal and would create all sorts of problems.
Paul and I were feeling quite downhearted. We went to the World's End with Jennifer and offered her the boxes of 'champagne' we'd purchased for opening night. She said the Farmer had managed to get some of the toilets working upstairs and told us we could use them. We arranged to have a liquor licensing inspector come through at 7AM on the Friday we were set to open.
Paul and I had never dealt with the liquor licensing inspector before. We had no idea what they looked for, but thought it would be best if the place smelt clean. We stayed up till 2AM the night before, coating everything with bleach. Our license was awarded just in time for opening night.
Here's a picture of Jillian and Paul opening the 2009 Format Festival: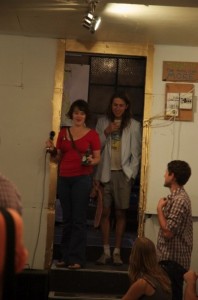 Note the haphazard wiring. The Exit signs were made of cardboard, with 'Exit' written on them in brightly coloured pens, right up until the final couple of days, when one of Fringe's production staff turned up to install proper ones.
Also note you can see Chloe Langford's illustration in the background of this shot, directly behind Jillian's head.
I'll post some more pictures from the 2009 Format Festival tomorrow.